Rondotex® Performance
Easy handling excellent storage of silage/hay/straw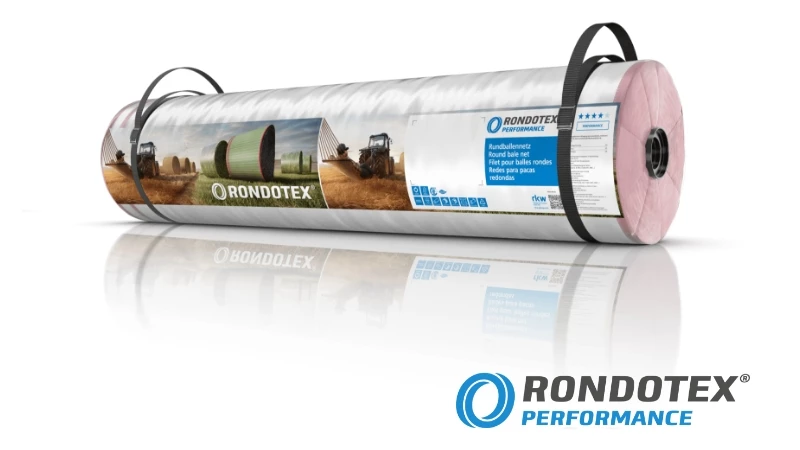 Would you like to receive further information on Rondotex® Performance?

Please feel free to contact us!
Downloads
Description
Rondotex® has been a global premium brand for round bale nets and films for over 35 years. Recognizable by the red thread, the Rondotex® portfolio is now available in three distinct categories for quick and easy orientation. In the Performance and Wizard categories, the product range includes round bale nets with a high breaking strength using less netwrap per bale compared to other standards net wraps in the market. That leads to less waste and lower cost per bale and underlines the sustainable approach with RKW has been following for many, many years. In addition, products in these categories provide optimum edge coverage, uniform winding, UV-stability, excellent wide run characteristics and can be used in all common balers worldwide.


Technical Data
*In extreme conditions at least +1 wrap
Storage under fleece and high stacking
Bale diameter >1,6 m
High pressure and temperatures
Frequent transportation
Special pressed material (e.g. corn, sugar cane, waste...)
** Dimensions of Rondotex Performance Mini | 2000 m (7,000 ft) length is available for Rondotex Performance Mini and Rondotex Performance

| Features | Rondotex® Performance |
| --- | --- |
| Length in m / feet | 1.500 m** / 4,900 ft**, 2.000 m** / 7,000 ft**, 2.600 m / 7,800 ft,  3.000 m / 9,840 ft, 3.600 m / 10,000 ft, 4.000 m / 13,000 ft  |
| Width in m / inches | 0.50 m / 19"**, 0.60 m / 23"**, 0.66 m / 26"**, 0.90 m / 35"**, 0.99 m / 38"**, 1.05 m / 41", 1.23 m / 48"**, 1.30 m / 51", 1.63 m / 64", 1.70 m / 67" |
| Applications | silage, hay, straw, strong straw, maize & sugar beet, pulp & canes, heavy materials |
| Packaging (easy handling, easy lift) | tube packaging with carry handles, spacers |
| Tear resistance in kg based on 123m | 270 kg / 595 lbs |
| Minimum wrappings | silage: 2.5* / hay: 3.0* / straw: 3.5* |
| Bale coverage | edge to edge |
| UV stability | 12 months (global) |
| Water shedding | |
| Side indication | |
| End marking | |
| Made in Germany | |
Benefits
Suitable for all round balers with working width up to 1.70 m / 67''
High tear strength 270 kg / 595 lbs at 1.23 m / 48'' width
Thicker threads for perfect cutting in the baler
Strong mechanical resistance
Optimized knitting structure with thicker threads and perfect wide-running behavior
Less mesh material per bale
Uniform winding
Excellent Edge-to-Edge coverage
End and side marking
Roll packaging with handles
Pallets with spacers for safe transport
Learn more about the RKW ECORE label for sustainable film solutions