Rondotex® Performance+ Round bale film
The all-round protection for heavy and bulky materials such as maize, sugar beet pulps or waste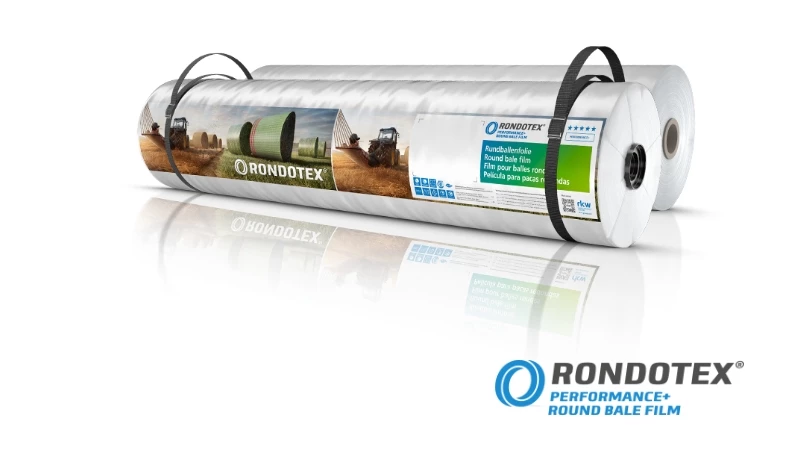 Would you like to receive further information on the heavy duty bags?
Please feel free to contact us!
Downloads
Description
Rondotex® has been a global premium brand for round bale nets and films for over 35 years. Recognizable by the red thread, the Rondotex® portfolio is now available in three distinct categories for quick and easy orientation. Besides this, RKW has incorporated its round bale films in the Rondotex® product family. The film is characterized by high tear resistance. Compared to the competition, it offers high stability with low consumption of resources. The film guarantees the compressed density and the dimensional stability of the round bales, so that they are optimally safeguarded during transport and storage. Bales bundled this way are also easy to open during frosty winter periods without any losses. No adhesive additives are used. The film is very efficient and allows for up to 220 bales per 2,500 m / 8,202 ft film roll depending on the extruded product. This corresponds to 200 gram / 0,44 lbs film per bale.


Technical Data
max. 5–10% stretch on filmbrake for combi balers with film intake device
stable bales
easy unwrapping
less film consumption
| Features | Rondotex® Performance+ Round bale film |
| --- | --- |
| Length in m / feet | 2.000 m / 6,560 ft |
| Width in m / inches | 1,28, 1,38 m / 50, 54" |
| Applications | silage / alfalfa / waste / maize / pulp |
| Packaging (easy handling, easy lift) | tube packaging with carry handles, spacers |
| Tear resistance in kg based on 123m | 380 kg / 837 lbs |
| Minimum wrappings | silage, alfalfa, waste: ≥ 3.2 / maize, sugar beet: ≥ 4.2 |
| Bale coverage | Edge-to-Edge & Over-the-Edge |
| UV stability | no |
| Side indication | |
| Made in Germany | |
Benefits
Suitable for all round balers with film intake up to 1.38 m / 54"
Very strong tear strength of 380 kg / 837 lbs with a width of 1.28 m / 50"
High mechanical resistance
Dimensionally stable bales due to higher film density on the shell surface
Excellent Edge-to-Edge and Over-the-Edge coverage
Perfect for wet and moist pressed material to avoid crumbling losses
Better silage quality due to the density and formulation of the film
Easy opening of the bales with the balecutter- / grabber
Less forage loss and minimized risk of packaging residues on the bale
More bales per roll of film
Learn more about the RKW ECORE label for sustainable film solutions