200 participants at RKW's panel discussion on International Women's Day
Gender pay gap, women's suffrage, women's quotas, women in leadership positions - these are all buzzwords that our society has increasingly been using in the fight for equality in recent years. March 8 is International Women's Day - for 110 years now, this day has been drawing attention to women's rights and gender equality worldwide. This year, too, a wide variety of lectures, events and campaigns will be held around the world under the motto "choose to challenge" - including, of course, at RKW.
Due to the Corona restrictions, this year a virtual panel discussion followed by a Q&A session was organized in which employees from the different German sites could participate. Topics such as diversity, equality and inclusion were discussed from different perspectives: What does this mean for us as a company and our business, for our customers, for our colleagues. Where do we stand now and what do we want to achieve as a company in this respect?
The panel included CEO Harald Biederbick, Sales Director Hygiene Claudia Sack and HR Manager Philipp Egelhof, as well as HR consultant and expert Joyce Gesing from Egon Zehnder. Following the panel discussion, the approximately 200 participants from eight German sites had the opportunity to ask questions and engage in conversation with the panel. The event was moderated by Sabine Duddeck, Manager Group Communications.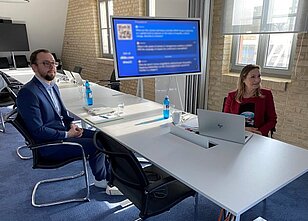 However, the message behind International Women's Day should be reflected and lived far beyond March 8 - in our everyday lives, whether at work or in our private lives.
At RKW, for example, this means women in leadership roles, and we have colleagues from more than 40 nations and speak 16 languages - that is diversity in action. We are still a long way from reaching our goal and want to continue to develop, improve and be vigilant in this area. Many necessary measures and steps towards equality, diversity and inclusion have been implemented in recent years and we are proud of this.
But the motto #choosetochallenge goes one step further: Together with our customers and partners, we are working to improve the lives of consumers around the world. Diversity and equality are important prerequisites for this - as is the courage to change and the willingness to take ownership for a sustainable future.